Personal security in the field.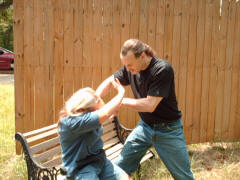 Alphacorps provide's training in personal security awareness, Personal protection, situational awareness, security personnel in the field, and basic security in the field, Safety in the hotel, training for field security, Threat assessment. Our company has over 25 years expertise conducting security training .

Personal security in the field training.
Situational awareness.

Threat assessment training
Vehicle security
Vehicle procedures defensive
Body language
Handling aggression
We also may use these modules depending on the needs of the agency.'
Understanding the hostage
Antiterrorism services Targeting of victims training.
Assessment of risk,
situational training Cultural differences,
Emergency survival,
Gender security and culture
Hostage situations,
Human trafficking,
Individual crisis training intervention,
Operational security,
personal and travel security.
Take a look at our Technical training background or dowload our Pdf newsletter
We also provide disaster training, four wheel drive operation and more

Headlines of news articles involving staff being killed in the field.

Employers face legal responsibility and must be committed to train aspects of safety and security to supervisors, physicians, social workers, crisis workers and disaster workers emergency responders... Head lines like these are becoming common place.
"From the pressroom NASW WV Statement: Social Worker Brenda Lee Yeagers Murder Social worker Brenda Lee Yeager, 51 of Lincoln County, was tragically killed in the line of duty on Wednesday. Her body was found on Friday.

Three expatriate aid workers and their Afghan driver died last week in a hail of.
Aug 4, 2008 ... Darfur: UN Troubled By Attacks On Aid Workers ... had a clear obligation to guarantee the personal and physical safety of relief workers
Our training is a component training specially designed for staff